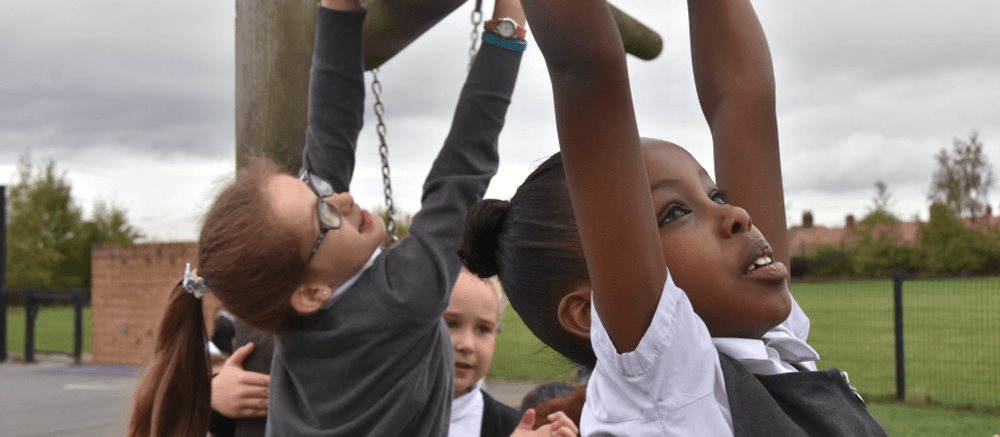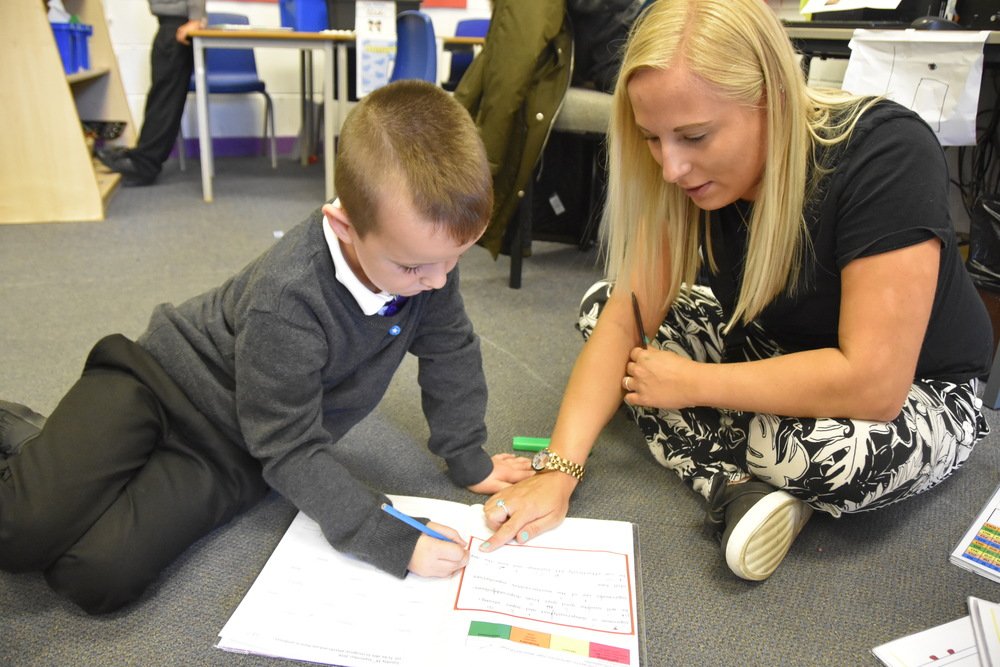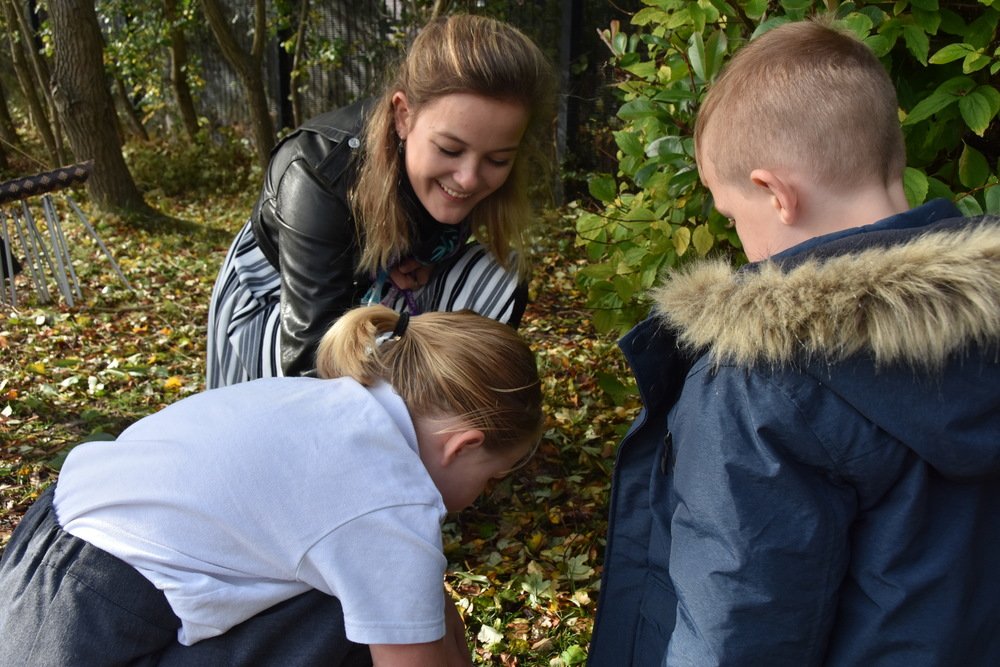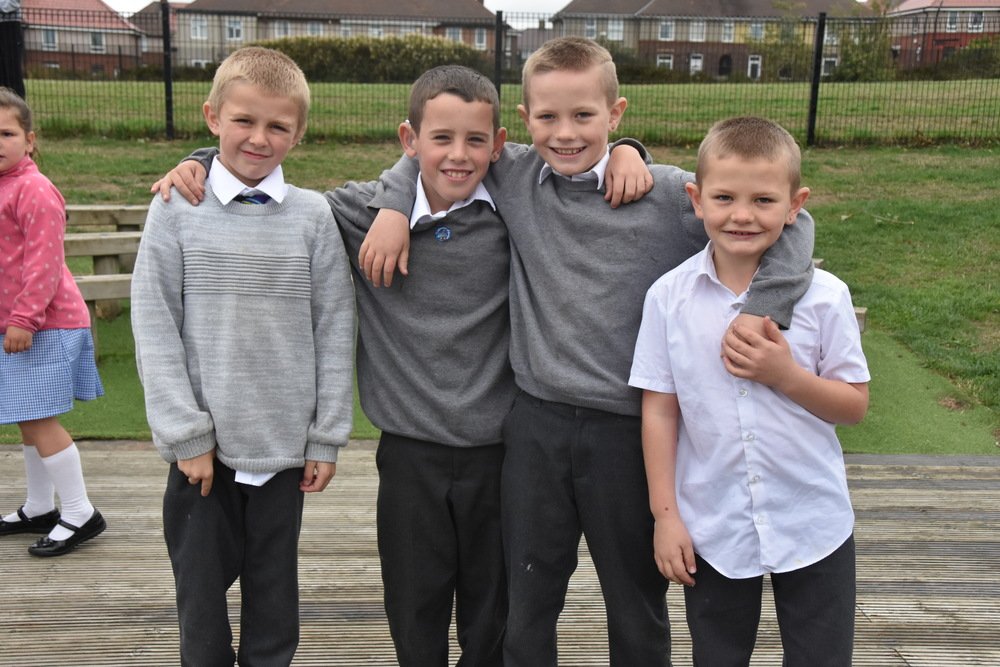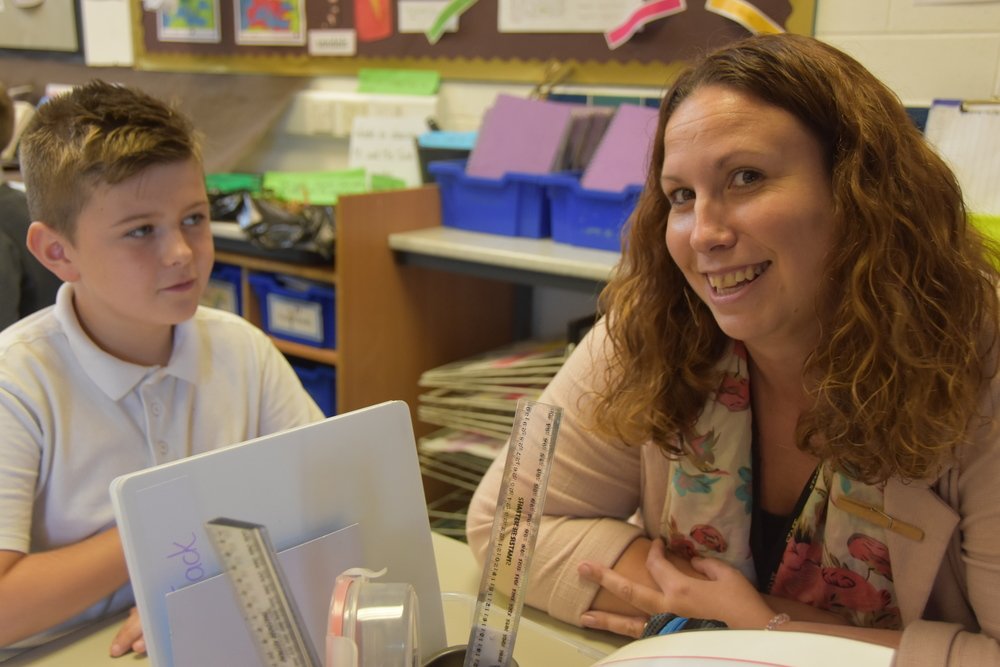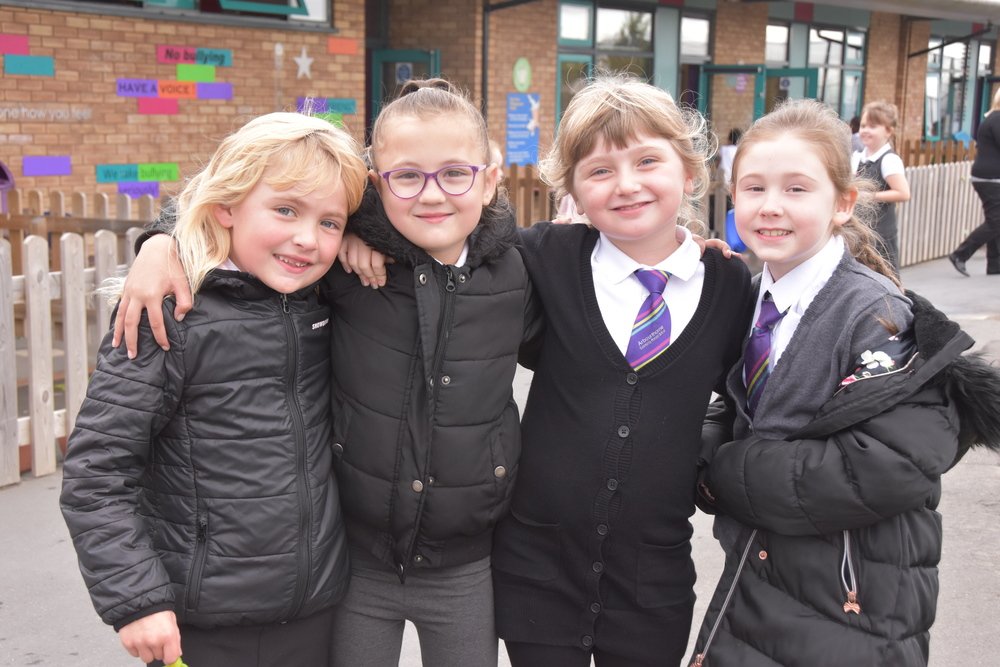 December 2018
Love this creation! Callum in Year 4 keeps extending his humble HB pencil with various things to create the 'mega pen'. His super hero character (made out of a clothes peg), a rubber and a biro have all been strapped to his favourite pencil. I had to draw the line when I saw him trying to tie a pair of scissors to this gadget, but in theory, I think it was a great idea. Here's a photo of him writing in his box. Callum loves coming to the art group on Fridays and has written a brilliant letter to Ms Langley asking if the project can continue in 2019. I think she might say 'yes'!
December 2018
Thankyou to all our Foundation families who visited Woodfield Academy in Oldham to share all the wonderful things we do in Family Art. We had a lovely art session making animals from Eric Carle's book, 'Polar Bear, Polar Bear, what do you hear?', check out our beautiful peacocks on sticks! Thankyou to Woodfield Academy for making us so welcome, we really enjoyed working at your school.
October Action Painting!
Loving the old school blinds as painting supports.
Wonderful gross motor exercises, pushing and pulling the paint around. Lots of other stuff going on too.... storytelling through painting .... language development, all happening at once in strange and wonderful ways.
Lots of fun, lots of mess. A big sorry to the grown ups if your child came home with paint in their hair... oops!
September2018
In Artspace this month I have been spending time with Key Stage 1 children, exploring magic, mark making, mythical creatures, and a few superhero's too! We have been doing lots of messy, collaborative large scale painting. Over the summer our school got new blinds, which meant I get to recycle the old ones for various painting projects. Some of them are huge... I need to work out a way to hang them and am thinking an exhibition outside, attaching the blinds to fencing, might just be the way forward...
July 2018 Summer Celebrations at the Little Book of Chatter Tea Party. Great Party everyone!
May 2018
I am currently attending a course which helps Early Years practitioners like me encourage boys to get into writing. This all starts with some serious play, mark making and story telling through construction and experiences of different materials. I have to say , today was a bit of an experiment, but a fun one. I observed the boys whist they engaged with all the different resources; chatting away and inventing different scenarios as they played. They ended up creating a special kit for motorbike making, and making an awful lot of mess! Lots of interesting things for me to think about, and a good time had by all.
April 2018
Foundation stage have made some stunning bird's nests artwork this week. We have created 'speckled' textures on Duck Egg Blue paper by taking rubbings off the playground floor. The surface creates lots of tiny dotty marks when you rub chunky graphite (an art material that's a bit like pencil) over the top of the paper. We've talked about what nests might be made of and created nest pictures with messy charcoal and rubbers. We built the nests up, line by line, bit by bit, just like a mother bird would do. Our nest collages in FS1 just got bigger and bigger, and needed extra taping down with lots of sellotape. Great results; making our Atelier look beautiful and super fit for Springtime talk.
March 2018
Minichatter is upon us in FS1 and we are all going a bit loopy with our wonderful loopy artwork, inspired by famous paintings by the artist, Cy Twombly. He did MASSIVE paintings full of wonderful loops which look a bit like giant handwriting. Through exploring these shapes, our children in nursery are preparing themselves well for becoming writers, as these skills will help them form letters in the very near future. Mum's and baby brothers came too - we had a lovely time.
January 2018
Year 2 have been to Whirlow Farm where they saw the paintings of Derbyshire based artist, Lynne Wilkinson. They have been talking about her style and copying her brushstrokes to make feathery roosters, and learning to mix their primary colours to good effect. Well done, Year 2, these roosters are wonderful!
December 2017
Gleadless and Arbourthorne have been coming to a special after school club to make artworks inspired by ' A Child of Books' by Oliver Jeffers and Sam Winston. It is part of 'Take One Text - a literacy project running through both schools. The children used these sessions to explore the relationship between text and image, inspired by the illustrations and interesting lay out of words in the book. Mubanga and Flossie, who are both studying Art at Sheffield High School came along to support our students with their expert skills. A big thankyou to both of them. This project culminates early in 2018, so watch out for some beautiful displays, coming to a school near you !
October 2017
Year 5 have been looking at the changing states of different materials in in Science. To enhance this learning, we experimented with and compared different art materials, treating our sketchbooks as laboratories. We found that the oil pasted resisted, or separated from the coloured ink, and that the felt tip pen and Brusho powder dissolved in water, creating magical effects. A good days experimentation!
20th September 2017
As part of our sketchbook focus, 'Sketchbook After School Club' has now commenced. The club, which takes place on Wednesdays after school ,rotates fortnightly throughout each year group and is open to all pupils (grown ups -look out for the permission slip in book bags please). Children who sign up for this activity will have the opportunity to revisit and explore in more depth their classroom sketchbook learning . Take a look at these marvellous medicine bottles, painted with primary colours by Year 3, who have been practising mixing their primary colours to produce secondary colours, and interesting shades of brown....
September 2017
Back to school and back to our sketchbook skills (hurrah!), which will be our focus this term with an emphasis on drawing and painting. All the lessons, from Year 2 to year 6, are linked into each year groups topic work, enhancing and extending learning in the classroom. Here are some Year 2 pupils exploring the wonders of broccoli, linking (eventually) to the storybook 'Supertato' and a superhero themed half term.
May 9th 2017
After looking at the famous paintings 'Waterlillies', by French artist Claude Monet, we visited our very own 'Giverny' , two minutes away down Eastern Ave. How lucky are we! The children had already explored different ways of making marks to represent the trees and sky reflected in water , as well as the flat lillypads on the pond surface, 'like squashed circles'. We took big A1 drawing boards, paper and charcoal to record what we could see.
April 2017
Finally our mini Atelier is finished in FS1 and I was able to run my first session there last week. Children are exercising their 'painting arms' whilst developing gross motor skills, and having a fun time mark making with paint. The mini Atelier has been inspired by the Reggio approach: the aim was to create a calm environment, with lots of natural objects, textures, colours and continuous art making provision so children can shape and choose their own learning and discoveries. We still have a long way to go on our journey but our aim is to get cracking over the next few weeks, inviting families into the Atellier to work alongside myself and their children. More soon!
April 2017
Spring is here!
And yellow is my favourite colour, along with pink, blue and grey, so it has been delightful to celebrate the season with daffodil observational drawing and paper sculptures which now adorn the Artspace walls. So optimistic! Thankyou to all the Key Stage 1 families who have attended afterschool Chatterclub.
Valentines Day
We took a detour from the forest of Red Riding Hood, home of the Big Bad Wolf to a woodland full of heart trees. We are celebrating Valentines Day, using small, medium and large heart shape templates for the decorations. Can you guess how this will help us get ready for Goldilocks and the Three Bears?
A really lovely session. Lots of families taking their trees home for a special Valentines display, saying what a great time they'd had.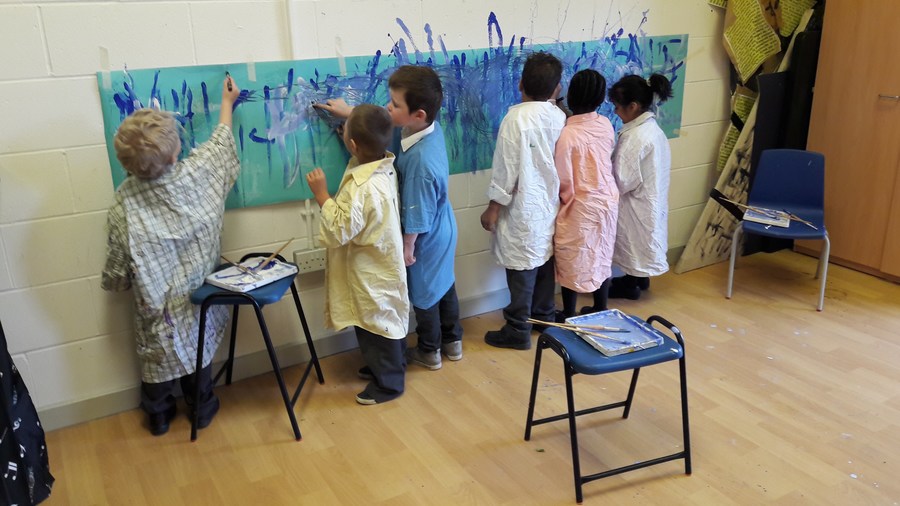 February 2017
This is my favourite photo of the year so far..... FS2 children developing their gross motor skills through large scale painting. The children enjoyed making big circles with their arms and letting the loaded paint brush crash down on the painting . Ms Langley, who was working in her office next door, came to see what all the banging on the wall was about. Needless to say she was very impressed.
December 8th 2016
Year 4 have been thinking about Paris. In our sketchbook sessions we have been drawing The Eiffel Tower using soluble pen. We have also been looking closely at the famous painting 'Starry Night' by Vincent Van Gogh. Today, we brought together all this learning to produce a final Paris painting, using masking tape and paint technique called 'scumbling' to create the structure of the Eiffel Tower. In these photographs you can see an assortment of visual resources used to inspire the final piece, including earlier sketchbook experiments. Sketchbooks are a great tool to reflect on previous learning, and think about how best to go forward. Well done Y4, I had a lovely time with you today. Thankyou!
October 2016
Almost half term and I have sooo enjoyed working with ALL our children from Y2 to Y6. Sketchbooks are such exciting things. I have lots and lots of them dating from when I was at school myself (over 30 years ago!) to the present day. I have been sharing some of my books with the children. Looking back it's so interesting to see the thread that runs through them all. Some things change over the years, but some things stay the same. I have encouraged the children to embrace their sketchbooks as a place for experimentation and self expression. Sketchbooks are like diaries with pictures, they contain memories and capture the essence of eras in ones life. If there was a fire in my studio and I had to choose between saving paintings or sketchbooks, the sketchbooks would win!
And so I am looking forward to 'The Art of Sketchbooking' part 2, which will continue until the end of Autumn term.
Here are some images of Y6 creating designs for their Dracula Wallpaper, complete with costumes for the ultimate immersive learning experience!
October 15th
Year4 are experimenting with the different effects acheived through using hard and soft pencil pressure in their drawings of the famous Henderson's relish bottle. They have been looking closely at the work of Sheffield artist, Pete McKee.
September 2016
This term I am back in the classrooms! I am sharing sketchbook skills with children from Y2 -Y6. Each child has a beautiful hard backed, spiral bound sketchbook which travels with them through their time at Arbourthorne. My job is to show them all the different ways sketchbooks can be used, and link this to their learning in the classroom. Above are some images of Scarecrow collages made by Y2. They had lots of different textured paper and material to design their scarecrow's outfit, and used annotation to explain more about their wonderful designs.
13th July 2016
I've been Artist in Residence at Arbourthorne for over eight years but this is the first year I have been asked to get involved with the school production, Oliver with a Twist. Something 'extra special' was required, to celebrate the federation between Arbourthorne and Gleadless. I thought, rather arrogantly, that it would be easy. It was not. Far from it. But some of it worked, and if I'm asked again next year I will certainly know what not to do. That's the fun of learning - you've just got to keep at it!
These images are some of my 'Oliver' drawings, collages and paintings that have been expertly photographed (and slightly photoshopped) by photographer Graeme Oxby. They were projected as backdrops at the back of the Montgomery theatre. My favourite is the 'Who will buy' scene,which I interpreted quite literally with collaged images of 'ripe, strawberry's ripe' and 'sweet red roses'.​
June 6th 2016
Ellie Bratton in Year 5 has designed a fantastic poster for our forthcoming production of Oliver with a Twist. Ellie's design will be reproduced as a large scale poster to be hung outside the Montogomery Theatre for all to see. Can't wait to see it. Brilliant! Well done Ellie. Here she is with her fellow designers using printing techniques to develop her ideas.
AboveEnter text...
12th April 2016
Our Elephant is now on display! And she is beautiful! Thankyou to everyone who helped raise an amazing £940 for Sheffield's Children's Hospital and a special thankyou to the six children whose designs were chosen to decorate our elephant, which will be going on display in Sheffield city centre with the rest of the herd this summer. Little Herd of Sheffield is a city wide project. creating a trail of elephants, large and small throughout the city, whilst raising funds for the hospital. You can find out more on www.herdofsheffield.com. As soon as I know where on the trail our elephant sculpture , entitled 'Arbourthorne Cares' will be, I will be sure to let you know. She just needs a few final tweaks and a coat of varnish before we release her to the wild. Any suggestions for a name?
March18th 2016
Our Gifted and Talented artists visited Salts Mill today to see the Ipad art of Bradford born painter, David Hockney. 'The Arrival of Spring' documents the seasonal changes between January and May of one stretch of road in East Yorkshire, where Hockney lives. All created on Ipads, the pictures capture the beauty of the landscape observed by Hockney, who spent a lot of time looking closely and carefully at the subtle seasonal shifts of light, reflections in colourful puddles (no grey puddles to be seen anywhere) and new Springtime growth. This exhibition , which is in the permanent collection at the gallery, celebrates the act of looking itself and getting to know something really well over a period of time.
Spring has definitely arrived at Arbourthorne too - so watch out for some of our own Ipad artwork!
1st February 2016
What a great start to this years Chatterbooks. Inspired by the Year 1 visit to The Deep in Hull, we have been chattering away about all things fishy, creating some beautiful Under the Sea mobiles and fishtanks. Thankyou to all the families who attended. To those of you who want to come but have found that the sign up sheets are full , let your class teacher know and come along anyway to your chosen session - we will do our very best to fit you in.
Looking forward to some Springtime Chatter after half term. Happy Hols!