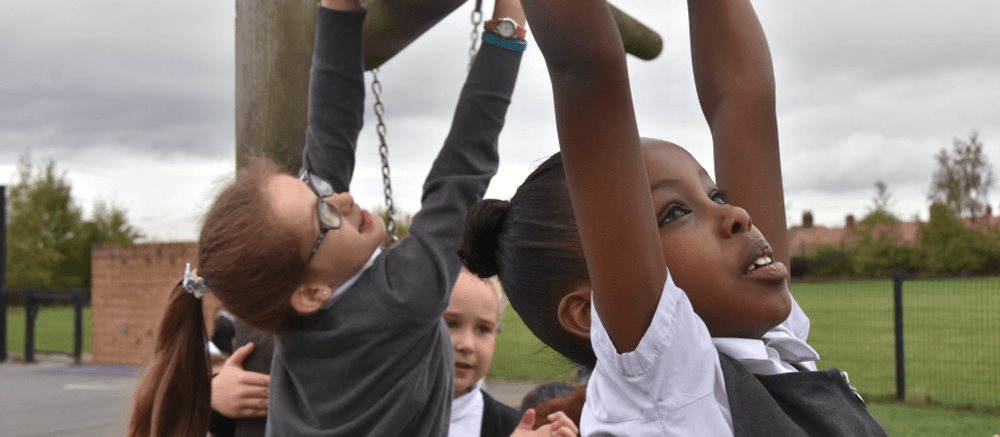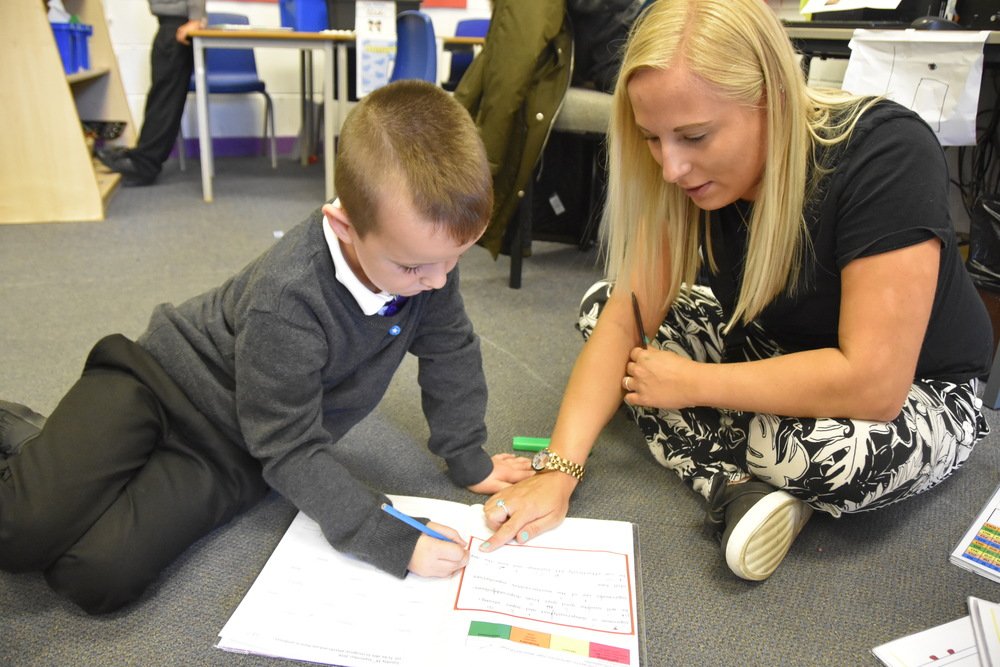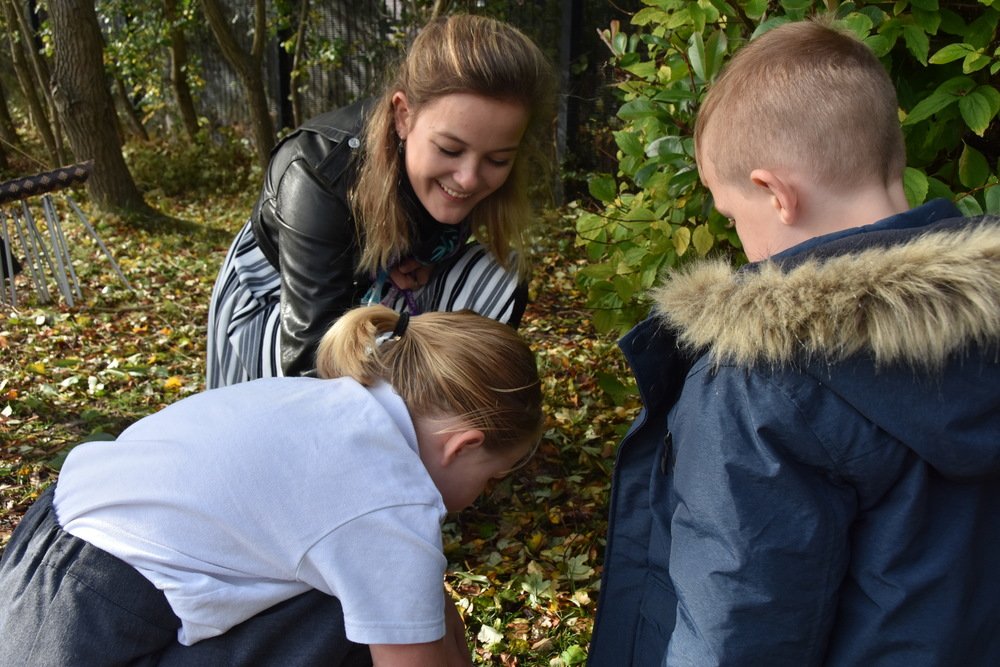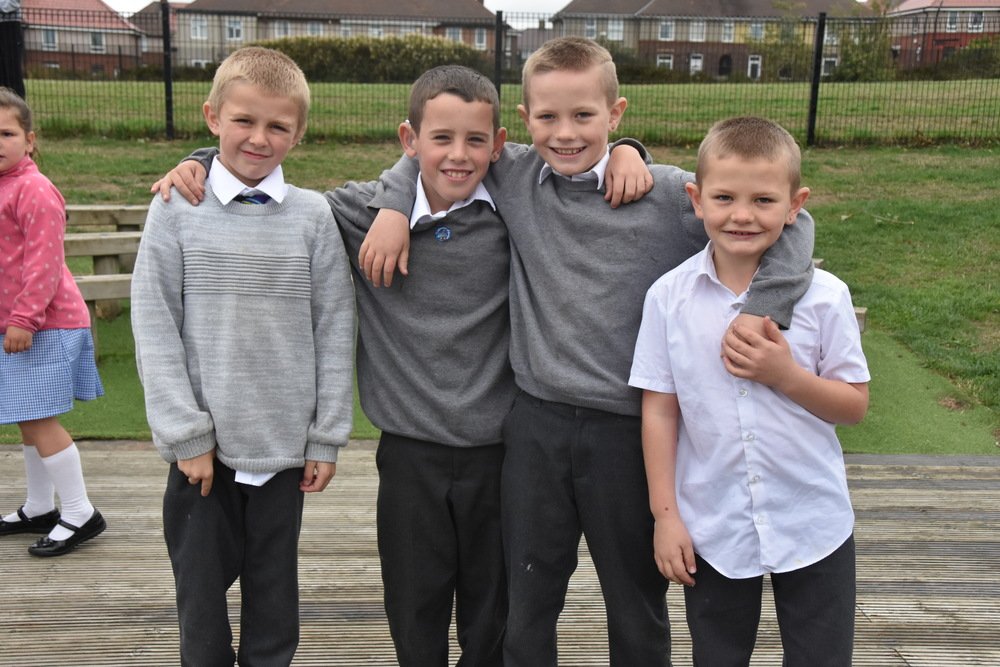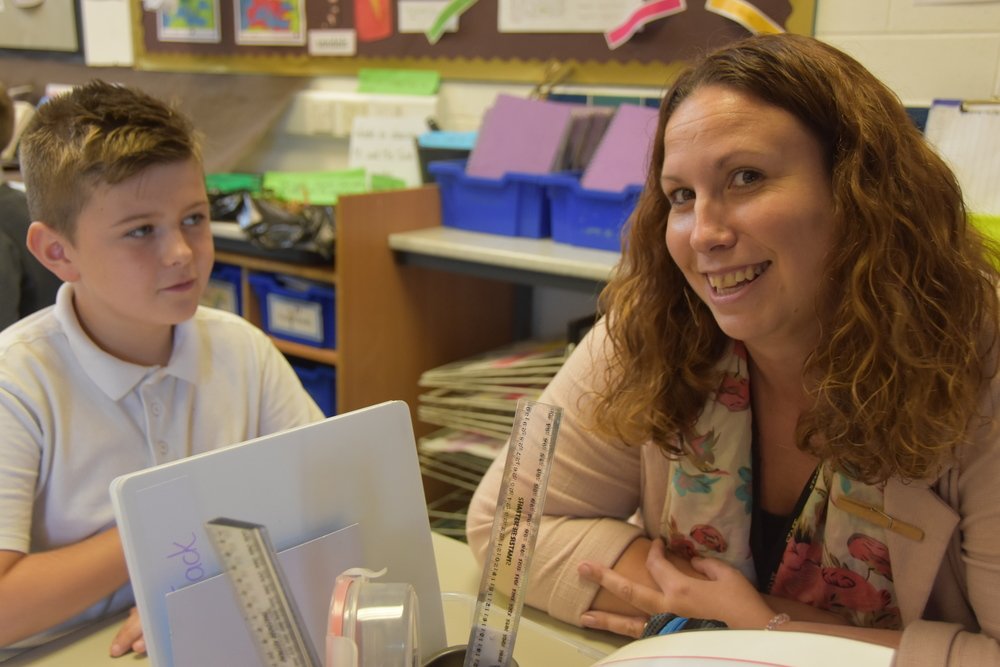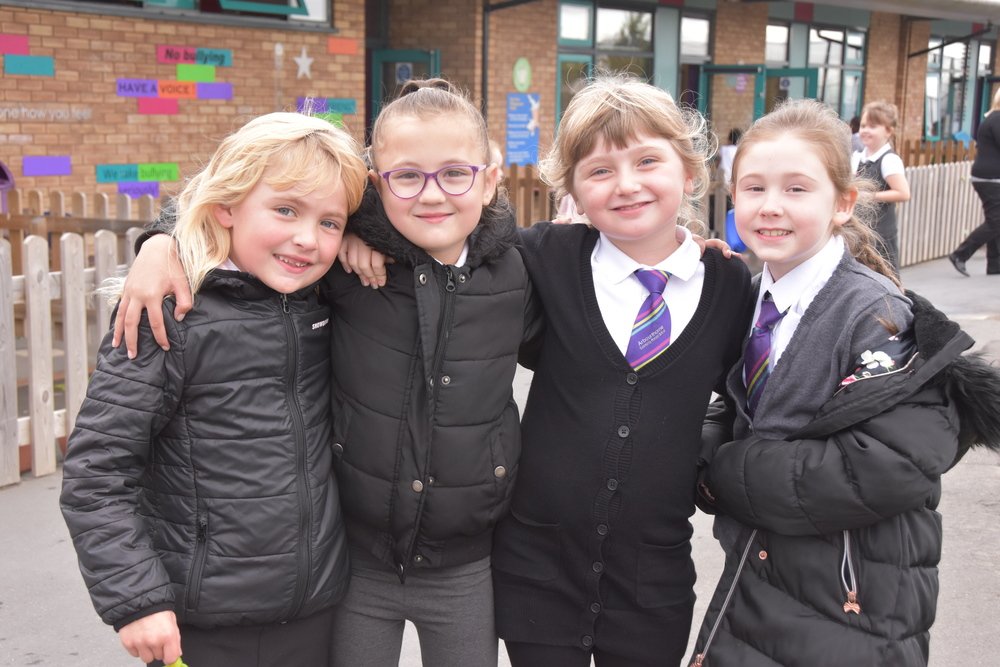 November 2018
We are talking about teapots! More specifically, the teapot in the nursery rhyme 'I'm a little teapot, short and stout, here's my handle, here's my spout'. Our research tells us that teapots come in many different shapes, patterns and colours. Today we made a teapot montage and lovely paintings using powder paint.
Autumn Leaves
Here at Arbourthorne we have a beautiful cherry tree in one of our quad areas. Now the leaves have fallen there is a carpet of wonderful Autumn colours from which to draw our inspiration. Today in Family Art we made observational drawings of the leaves, and the children used watercolour paints for the first time and carefully mixed the colours they could see. Everybody enjoyed rolling the clay out and pressing the leaves onto its soft surface to make a print. A lovely session.
Halloween 2018.....
In keeping with the Halloween celebration our families have been making a 'Book of webs', exploring spidery cobwebs through line, repetition and glitter!
October 2018
Word has got round about just how fabulous Family Art is. Thank you to all you lovely families for turning up and supporting your children's learning. We have been talking about 'The Snail and the Whale' by Julia Donaldson, and our artwork this week has explored the 'caves beneath the waves'. Check it out!
October 2018
Family Art is back!
Welcome, Foundation families to Family Art.Come along to Artspace on a Thursday afternoon to enjoy learning new creative skills with your child. This week we having been talking about snails, and making spirally artworks using clay, paint, charcoal, pastels and coloured sand. Hope to see you soon. Sessions run between 1.15 and 3pm. Please speak to your child's class teacher if you'd like to come along.
July 2018
Starfish
Today we have been talking about Starfish, drawing starfish and making 3D starfish in different ways using clay, tissue paper and tape. You can see from the gallery above how much the children enjoyed this session and how proud they are of their learning.
July 2018
Monoprints
This week in Little Book of Chatter we have been making monoprints inspired by animal skin patterns. To make a mono print, you paint directly onto a surface ( we used clear Perspex), lay a piece of paper on top of the painting and either use a roller or rub your hands smoothly but firmly over the back of the paper. Next, you peel back the paper to reveal your monoprint. This bit is always a bit of a surprise - which makes monoprinting a really exciting thing to do!
June 2018
This week we are thinking about Eric Carle and all the wonderful illustrations he makes for his books and stories. The most famous story is The Hungry Caterpillar, but here in Chatterbooks we have been looking at how Eric Carle creates all sorts of creatures, plants and trees, and learning about some of his techniques. Eric Carle's pictures are made using collage; that is, making pictures from cutting and tearing paper and arranging them to make something new. However, Eric Carle makes all his papers himself by painting or drawing patterns and textures before he cuts them up. We had a go at this... with terrific results!
May 2018
Happy Faces!
In Minichatter this week we have been exploring markmaking through teddy bears; using charcoal, rubbers and paint. We even made felt clothes for our bear paintings (this was the children's idea). Look at the super proud faces of these fantastic artists, and a big thankyou to grownups for supporting your children to create such marvellous work.
April 2018
People who help us.
Our FS2 families are extending classroom learning in Little Book of Chatter by thinking about firefighters. We have been talking about the colour red; 'Fire Engine Red' and also experimenting in our Paint Laboratory to see how we can make firey colours by mixing red and yellow. Looking good,FS2!
Little Book of Chatter, March 2018
Welcome all our new FS2 families to Little Book of Chatter 2018. This year we are exploring stories and traditional tales through focussing on colour . As ever, every family who attends gets their own Chatterbook and access to free visual arts workshops to talk, learn and create alongside their child. So far, in the Artspace paint laboratory we have been thinking a lot about Beanstalk Green and the golden eggs from Jack and the Beanstalk. Take a look....
Mini Chatter!
FS1 children are working in their newly created Atelier to help develop their handwriting skills by exploring shapes through mark making. Getting good at these shapes will eventually help the children to form letters and begin to write. This week - it was the zig-zag! We looked at a painting by Henri Matisse that was full of zig-zags, and explored the pattern on different scales using a variety of media, including drawing in sand!
Little Book of Chatter Exhibition 2017!
June 2017.... Wild Things!
In whole class Chattersessions we used the fabulous illustrations from 'Where the Wild Things Are' by Maurice Sendak as a starting point for our artwork. We explored different ways of markmaking, to create all the wonderful textures of the Wild Things, like hairiness and scaly skin. We created models out of packaging and bits and pieces, adding fur, sawdust and bubblewrap. Brilliant! .
May 16th 2017
Check out our Arts and Crafts wallpaper! After looking at the wallpaper designs of William Morris, we cut out our own paper birds to construct our wallpaper designs, bit by bit. We folded the coloured paper in half before cutting bodies, wings ,beaks and tails, so that each time we ended up with two identical shapes. We arranged them on swirly curly lines drawn with black felt tip, and tried to make our arrangement symmetrical. Finally we added further embellishment (fancy bits) with the pen and glued on some feathers. Beautiful. I would like this wallpaper in my bathroom, for sure.
April 2017
The painter known as 'Mondrian' was very different to Jackson Pollock. He was into keeping everything real simple, and he also like straight lines. His most famous artworks consist of squares and rectangles in primary colours (blue, red, yellow) and thin black lines. Check out our cracking Mondrian style wallpaper.
March 2017
We are talking about famous artists. This week we looked at Jackson Pollock, an American painter who used dribbles and splats to create magnificent paintings. We looked at some photographs of Mr Pollock pouring paint onto the huge canvas. He is the first artist to use paint in this way and so is a very famous and important artist. We made a lot of mess, so I was very grateful that I had the parents to help me clear up Artspace at the end of the session. Children love paint. They were all very focussed and happy making small Pollocks for their Chatterbooks ( in happy and sad colours) and a large collaborative piece, that I think looks stunning. Happy day.
March 2017
We have been making things in threes..... chairs, bowls of porridge, spoons and steam (to show that the porridge is hot!) All from Goldilocks and the Three Bears of course, which FS2 children have been reading in their classrooms this week. We also continued our learning about colour mixing by using tissue paper stripes to make a chequered tablecloth for the bear's dining table. Because the paper is translucent ( that means you can see through it) when the colourful stripes overlap they blend and make new shades and colours. Very colourful and gluey artwork!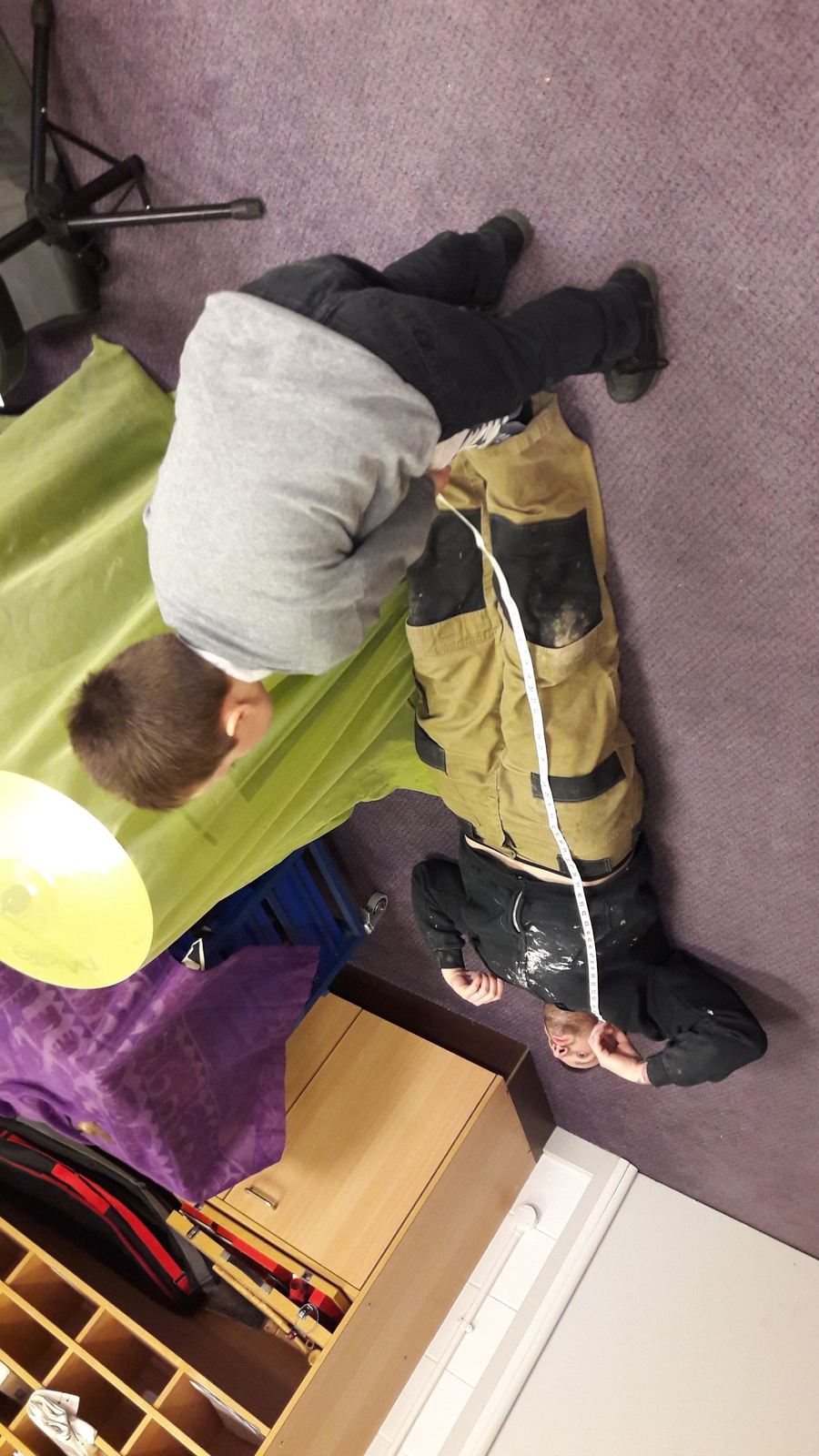 March 2017
Check out Landon measuring his Dad!
It's not too late to join Little Book of Chatter . The project is FREE and open to all FS2 families until June 2017. Join in with the Arts workshops and receive your very own Chatterbook to treasure and take home. Sessions run in the Artspace on Tuesday afternoons,1-3pm and Thursday mornings, 9-11am.
Come join us!
Little Book of Chatter
February 2017
We are making green by mixing blue and yellow paint. We discovered that by varying the quantities of paint, we can create all different shades of green, like the greens of the leaves in the forest. We made small trees in our Chatterbooks and a big tree on the wall, using rubbings taken from a log to create the textured bark of a tree trunk.
Red Riding Hood looking lovely as ever.....
February2017
We're chattering again! A big welcome to all the new Foundation Families who have taken part so far in Little Book of Chatter. This year our artwork is inspired by Traditional Tales. As a link between The Three Little Pigs and Red Riding Hood, our first session focussed on the big bad wolf. We experimented with mark making, using matchsticks and toothbrushes to create furry wolfy textures, and cut triangles out of silver paper for the terrible sharp pointy teeth.....
July 2016
Here are some of the highlights from last weeks celebration of Little Book of Chatter. Our hall was full of families and young artists who came to enjoy this years exhibition- how exciting! The display looked beautiful, well done to everybody. See you in September!
April 2016
Little Book of Chatter Part Two has begun this week. We are hoping for some beautiful sun shiny days so we can go create and grow in our nature garden. We are launching this term with a weaving project. Yesterday, parents created structures using willow and chicken wire, then they and their children had a great time rummaging through piles of 'stuff', collecting interesting samples for their chatterbooks and organising the materials by colour. Everyone was excited to be back after the Easter break. New workshop times are as follows; Tuesdays 10.30 - 12 and 1.30-3pm. Everyone welcome.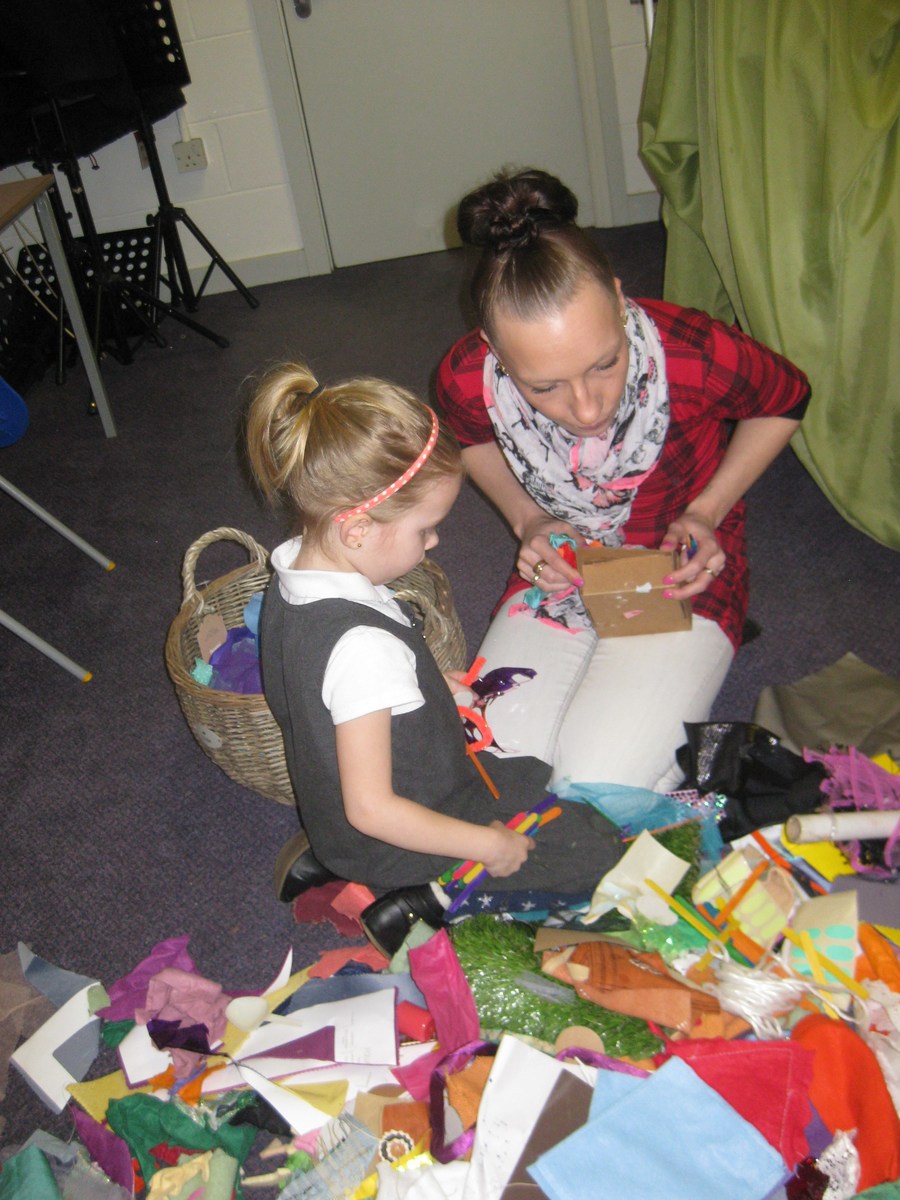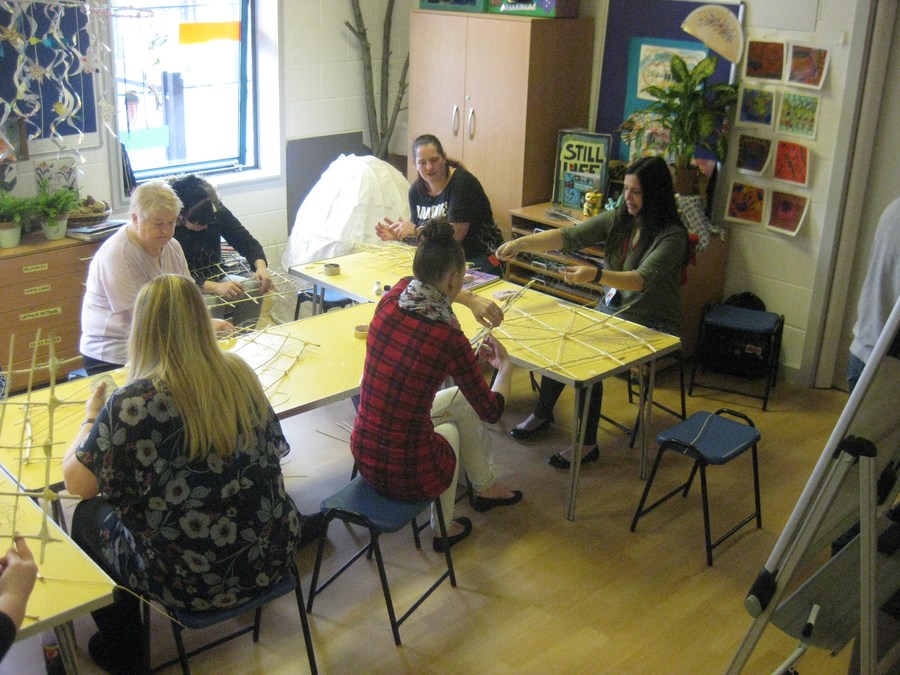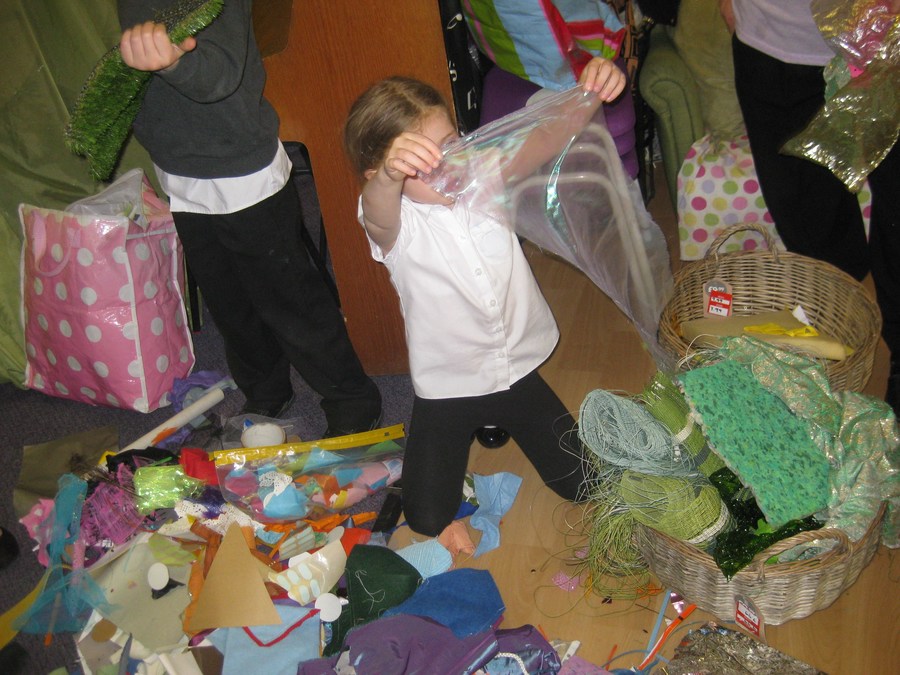 March 2016
Our families have been talking about pattern and texture in our Chatterbook workshops. Starting with observational drawing from natural objects , we have collected a whole range of patterns, textures and words through explorations in charcoal and clay...
January 2016
I am delighted to announce that Little Book of Chatter 2016 is about to be launched for FS2 and Year 1 families. Free arts workshops will be happening in our new Artspace (formerly the staff room) on Mondays and Tuesdays throughout the Spring Term, including an after school club option, due to popular demand! Please come along to our coffee morning on Wednesday 13th January, 9 -11am in the Community Room, and find out more about this fantastic opportunity for you and your child.
Based on research which tells us that the talk children do at home plays a huge part in their school development, Little Book of Chatter was launched in Autumn 2014 .
Our Foundation Families were invited to sign up for the project, each receiving a personalised hand made Chatter-book and the opportunity to attend weekly Family Art workshops with Jayne.
'Chatter-mornings ' took place in class the following day, offering children and grown-ups the opportunity to share their learning, both from home and school. 89% of families engaged with the project which culminated in a stunning final exhibition , showcasing a range of artworks in different media and some excellent high quality chatter!